Vacation Home Specials and Packages
Featured Property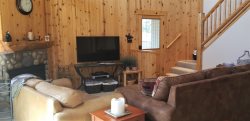 Getaway on the Fairway Eagle Crest
Guest Reviews
Our family had a wonderful time in your home. The kids had so much fun playing in the hot tub, we could hardly get them out. Thanks f...
The chalet was an AWESOME choice for our family, thank you for helping us choose. We appreciated the personal service and suggestions...
View More Reviews
Vacation Home Specials and Packages
There are no packages or specials at this time. Please try back soon.